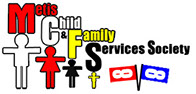 The Community Support Home Programs Page
Métis Child & Family Services Society (MCFSS) Edmonton provides support for Children and Youth who are in the care of Alberta Child and Youth Services and we are seeking compassionate, caring individuals to provide a home for our Children and Youth.
Foster families are provided with ongoing training and support through Métis Child & Family Services to enable them to provide the best care possible.
Support group meetings enable out foster families to share their strength, wisdom, knowledge and experiences with each other.
Criteria for Becoming a Foster Care Family:
Application(s) must be at least 18 years of age.
All members within the applicant(s) family home must be interested.
Applicant(s) should be emotionally, financially and physically stable.
Applicant(s) must be willing to encourage and support contact between child and his/her natural family.
Applicant(s) must be comfortable with the Aboriginal community and Child's family members.
Applicant(s) must be willing to invest time into Orientation Caregivers training and Mandatory training
Applicant(s) residence must be licensed by the Child and Youth Licensing Unit.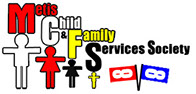 © Copyright 2018 All rights reserved | Design by Gtech | Privacy Policy | Terms of Use | XHTML | CSS
10437-123 Street Edmonton, Alberta Canada T5N 1N8